Incident Power Apps
The app is dedicated to frontline and back-office collaborators to facilitate the registration of incidents, nonconformities or events anywhere even offline, on any device. Users can take photos and notes while registering incidents. Any registered event will be synchronized back in the BPA software. Automated workflows ensure the right people are alerted, the incident is investigated, and corrective actions are effective.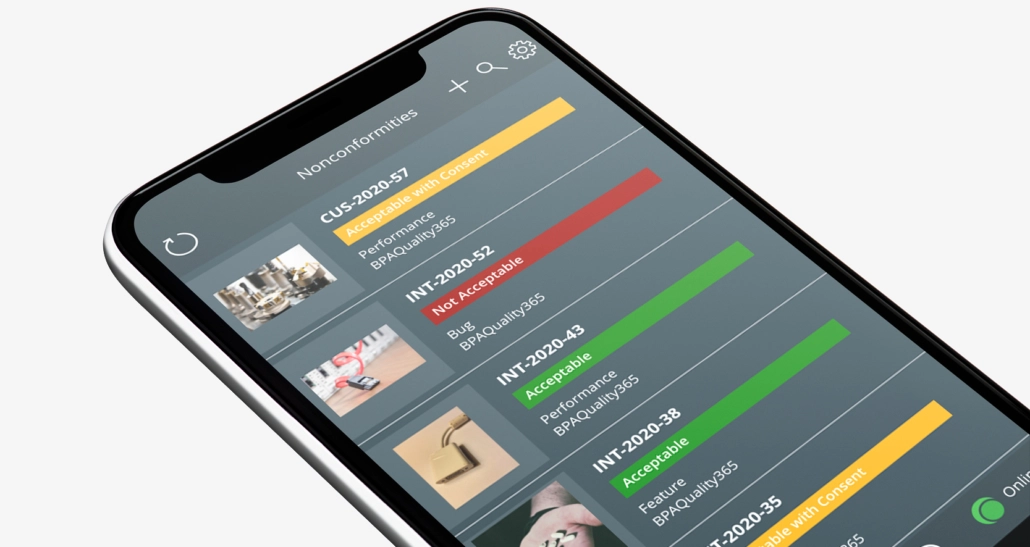 Request a FREE Trial Access
Take Faster Decision with a Failure Catalogue
We designed the app to match 2 major usages, incident registration and failure catalogue. Selected incidents can be added in a failure catalogue to be displayed in the app and browsed by frontline workers on production lines, simplifying decisions about product acceptance without asking line managers.
Combining the front-end Incident Power Apps and backend QMS software, enterprises get an end-to-end solution for optimal problem solving, allowing everyone to report incidents easily with any device, anywhere.
BPAQuality365® Unique Software Benefits
Engaging
Boosting user experience & have fun!
Agile
Enhancing your existing assets & be unique!
Innovative
Enabling modern technologies & go smart!
Microsoft 365 is the Right Technology For Your QMS
Report all Events in the QMS
Get more data to analyze, improve processes and reduce the cost of non-quality.
Take Faster Decisions
No need to ask line managers, get quick product acceptance info in the failure catalogue.
Runs on Power Apps
Power Apps brings ultimate Office 365 integration.
Quality tools are indispensable in quality management because they provide...
read more