Report All Non-conformances
Collecting all non-conformances when they happen is not an easy task. Decisions need to be taken quickly with relevant actions to prevent non-conformances to happen again.
The non-conformance management module included in the eQMS software makes sure everyone can report non-conformances easily when they occur, anywhere, even while offline. We make it easy for external stakeholders to directly report non-conformances in the software. Collecting all non-conformances gives more data to analyze and contribute to continuous improvement of products and processes.
Report All Events with the Non-conformance Power Apps
The non-conformance Power Apps makes it easy for anyone to report an incident with their preferred mobile device by taking photos, even when offline. The app was designed for frontline users on production lines and workers on the field to report all non-conformances easily. The app contains a failure catalogue for end users to take quick decisions about non-conformances.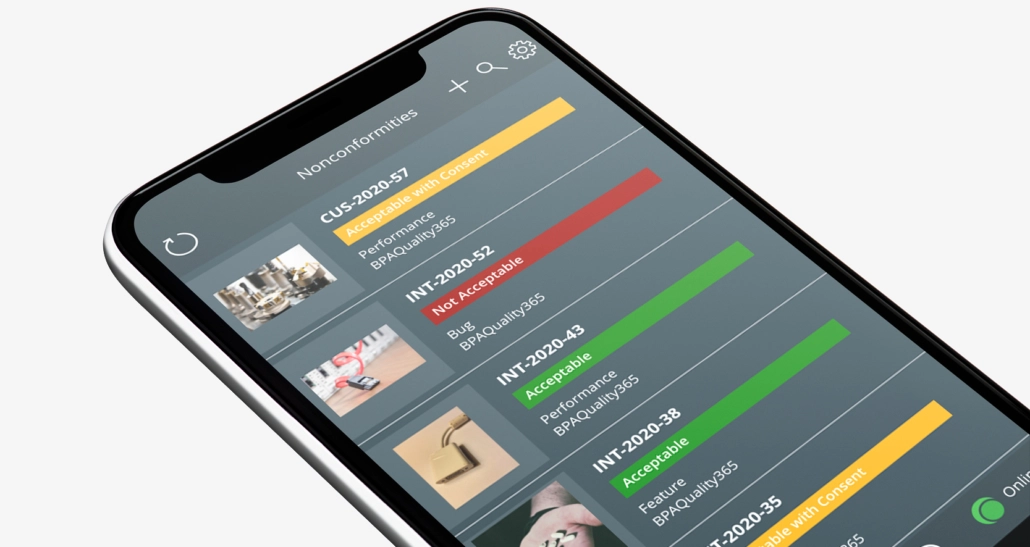 Let Customers Report Complaints Easily
Customers directly report complaints in the software with the needed data for your support team to immediately take assignment. Suppliers report deviation requests with simple and configurable forms. Simply share access to these forms with your internal and external stakeholders with the guarantee of Microsoft 365 security. There is no cost for anyone to report events by using Microsoft Forms.
Ensure Efficient Problem Solving with Automated Workflows
When a non-conformance is reported, an automated workflow starts. Members are instantly alerted in Microsoft Teams for quick assignment and investigation, avoiding cumbersome email processes. Intelligent forms guide users to determine root causes (5 why, fishbone) and risks. Automated workflows make sure corrective actions (CAPA) are effective prior the non-conformance is closed.
Measure Customer Satisfaction
Collect customer satisfaction easily by using survey forms with no extra cost and no software license needed. Simply share access to surveys with your clients and collect satisfaction data in the eQMS software. With Power BI dashboard, decision makers have instant insight about customer satisfaction, simplifying decision making and leading to enhanced client satisfaction.
Connect with Dynamics 365 ERP System
We have seamless integration between the eQMS software and Microsoft Dynamics 365. Retrieve data from your ERP system when registering a non-conformance, like a product, an article or any data and avoid redundant data in both systems.
Improve Productivity with Teamworking
Eliminate frustration dealing with too many emails and switch to productive real-time discussions in Microsoft Teams when working on non-conformances. End users can search and share non-conformance cards while discussing, start a Teams meeting right away or assign follow-up tasks, boosting teamwork productivity.
Let AI Find Similarities for Better Problem Solving
We use Artificial Intelligence (AI) in our eQMS software to simplify non-conformance management. End users find their non-conformances or related CAPA actions by simply asking a chatbot in Microsoft Teams. AI is used to find similar non-conformances based on configurable patterns. The result is a quicker and more efficient problem solving process.
Take Faster Decisions with power BI
The non-conformance software module is ready to be used in Power BI reports. Decision makers get periodical reports automatically and drill down interactive charts to view data like they want for quick decision making. In addition, end users get access to graphical reports, like Pareto charts.
Do More With Microsoft 365 Technologies
The non-conformance management software module leverages Microsoft 365 technologies, like Teams, Power Platform and SharePoint for an ultimate user experience on any device. Be aligned with your IT strategies to enforce security and reduce cost when managing non-conformances.
BPAQuality365® Unique Software Benefits
Engaging
Boosting user experience & have fun!
Agile
Enhancing your existing assets & be unique!
Innovative
Enabling modern technologies & go smart!
Microsoft 365 is the Right Technology For Your QMS
Trust
M365 is trusted by enterprises worldwide.
Security
M365 provides the best security for your QMS data.
Lower Cost
Lower cost in using acquired M365 tools for your QMS
Quality tools are indispensable in quality management because they provide...
read more